Caju Suppliers & Distributors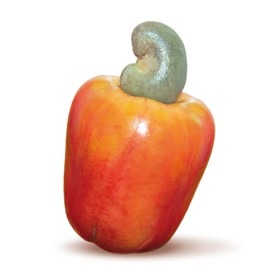 Caju is also very widespread in the North-Eastern part of Brazil. Part of the same fruit is the cashew, quite appreciated internationally. The pulp has a distinctive astringent taste.
The vitamin C content of caju is about 3-4 times higher than that one of the orange. Hence, the strong antioxidant function of the juices/smoothies made of this fruit pulp. Good amounts of vitamins of B complex and of dietary minerals (calcium, phosphorous and iron) complete the extraordinary nutritional qualities of this fruit.
Chemical-Physical and Nutritional average values for 100g
Caju NUTRITIONAL PROPERTIES
|   | Values per 100g | NRV* % |
| --- | --- | --- |
| Energy | 51 Kcal – 215 kJ |   |
| Proteins | 0,6 g |   |
| Carbohydrates | 11,0 g |   |
| Fats | 0,2 g |   |
| Vitamin C | 140,0 mg – 233% RDA |   |
Caju CHEMICAL-PHYSICAL PROPERTIES
|   | Values per 100g |
| --- | --- |
| Total solids | 11 g |
| Soluble Solids | 10 °Brix |
| Acidity (Citric Acid) | 0,4 g |