FMCG Mistral Trading is one of the leading global FMCG distributors. For more than 40 years, we have been supplying grade-A FMCG wholesale products to retail groups, supermarkets, and independents.
Almost 100 top-tier brands covering ten different good categories are our partners. One of our retail clients is pulling Starbucks shots in Spain, while another sells Mars ice creams on an Australian beach halfway across the world.
What Is FMCG?
First thing first, what are Fast Moving Consumer Goods? To put it simply, they are:
Non-durable household goods
Frequently purchased goods
Quickly sold products
Relatively low cost
There are four major types of Fast Moving Consumer Goods:
Home and personal care
Food and beverage
Tobacco
Alcohol drinks
The fast-moving consumer goods market is a fast-changing and ever-evolving playing field. Customers are used to a wide collection of choices in terms of both products and retail spots.
For FMCG companies, it is critical to have a reliable channel to bring their products to different markets. Retailers need a connection to the manufacturers to have a constant supply of popular products.
That is where Fast Moving Consumer Goods distributors come to play.
Why Is The Role Of FMCG Distributors?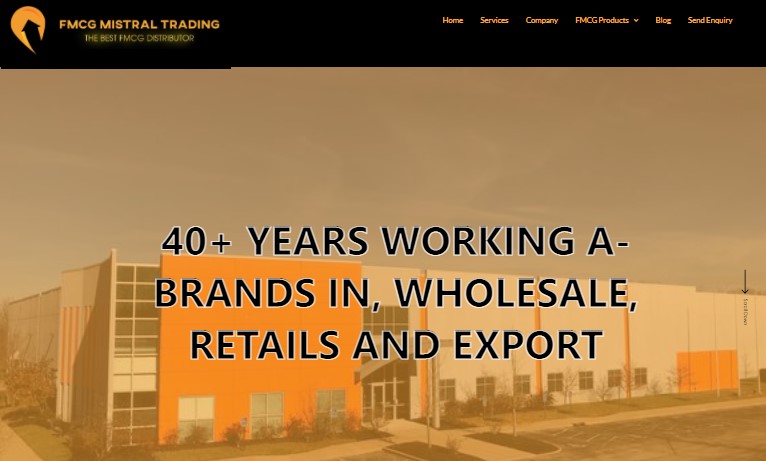 Distributors extend an FMCG manufacturer's reach and widen a retailer's catalog by carrying out the following tasks:
Purchase/stock products from manufacturers in bulk
Sell/distribute to retailer in smaller quantities
Expand the distribution network of outlets horizontally and vertically
Maintain a smooth operation inside and outside of warehouses
Ensure the product quality and delivery schedule are on point
Provide financial support to retailers through credit
What Makes FMCG Mistral Trading Stand Out Among Other FMCG Distributors?
FMCG Mistrak Trading is the FMCG Import-Export Division of AYC Company. We have established our status among FMCG Distributors Europe and gained firm footholds in the international market through the below attributes.
Expansive Experience
Over decades of doing business with clients all around the globe, we have obtained extensive knowledge of custom and transit systems in numerous countries.
Another benefit of selling and delivering thousands of tons of goods worldwide is an intimate understanding of many local markets. We understand that you need different distribution structures based on consumer behavior for the urban market and rural market.
Professional FMCG Management
Our team of managing staff is highly trained. They are always ready to provide all the assistance you need to order, keep track of, and receive your products.
Facility
With more than 9000m2 of our own warehouses, we are more than capable of fulfilling your demands, whether they are fast-moving consumer goods, gourmet commodities, or private labels.
On top of that, we also have access to a wide net of bonded warehouses throughout Europe. Thanks to them, we can make multiple modifications to our products, such as :
Building
Packaging
Grading
Testing
Maintaining
To ensure a smooth operation, we apply cutting-edge technologies to keep track of every item getting in and out of the storage facilities. They make cross-docking never more efficient.
Delivery Services
FMCG products require fast delivery. That is what we offer. With our delivery rates, your shelves will always be full with your chosen products.
Various Top FMCG Brands
Working with us will bring you access to almost 100 internationally recognized leading fast moving consumer goods brands. Our catalog features enough popular products to cover the needs of any standard consumer.
Fruits and Vegetables
We spread the captivating scent and exotic flavor of Brazilian fruits across thousands of kilometers. When they reach customers' hands, the frozen pulps are still fresh.
Our fruit products include:
Strawberry
Red Fruits
Raspberry
Pineapple
Papaya
Mango
Coconut
Acai
…
Biscuit, Cookies, and Waffles
Like other FMCG Distributors Australia, our biscuits, cookies, and waffles come from international brands, such as:
Loacker
Leibniz
Knoppers
Jules Destrooper
Lotus
Mondelez
Breakfast And Cereals
These brands are often what your customer see first thing in the morning every day:
Nestlé Breakfast Cereals
Nestlé Snack Attack
Nature Valley
Corny
Milk And Milk Drinks
What is the second thing they see? Milk. We can get you covered too:
Madeta
Mars
Nestlé Nido
Alpro
Chocolate Bars, Snacks, And Spread
Chocolate can be fancy and can be casual. It comes in bars and comes in boxes. If you are looking for a big brand name, it is probably in our stock:
Milka
Maiasmoke
Ritter Sport
Ferrero Rocher
Lindt
GuyLian
Godiva
Cebe
Ovomaltine
Merci
Mars
Nestlé
Coffee And Tea
Coffee and tea are hundred million dollar industries. FMCG Mistral Trading exports these goods to multiple markets overseas.
We are FMCG Distributors Asia partner of the following brands:
Nescafé Dolce Gusto
Nescafé Xpress
Starbucks Coffee
Soft Drinks, Energy Drinks, And Juices
Every retailer can tell you that soft drinks bring hard cash. If you want to get into the sweet money, we guarantee that these bottles and cans will come to you fast.
Many major names chose us to be their FMCG Distributors Mexico:
Monster Energy
Redbull
Schweppes
Coca-Cola
Pepsi
Fruittis
Gummies And Candies
Our warehouses also have candies and gummies. They all bear widely recognizable trademarks like:
Cavendish & Harvey
Chupa Chups
Fisherman's Friend
nimm2
Mentos
Werther's Original
Ice Cream
There are plenty of flavors of these top names ice creams in our inventory:
Langnese
Mars Ice Cream
Ben & Jerry's
Häagen Dazs
Ferrero
Oreo
Sauces And Condiments
These ready-made sauces are ready to fill your shelves and warehouses:
Heinz
Old El Paso
Jack Daniel's Barbecue Sauces
Tabasco
Champagne
From excessive music videos to elite private parties, champagne is the sign of wealth and class. We have a formidable collection of these luxury commodities:
Ace of Spades
Crystal
Bollinger
Dom Perignon
Krug
Le Chemin du Roi
Salon
…
Whiskey
There are up to 25 whiskey brands that are available to deliver from our facilities. We can compete with any other FMCG Distributors USA.
Jack Daniel's
McDowell's
Officer's Choice
Imperial Blue
Royal Stag
Johnnie Walker
Jim Beam
Bagpiper
Chivas Regal
Dewar's
…
Top Among FMGC Products
We always believe in giving the best services to our clients and with experience of 40+ years, we are known as the best distributor in the market. Our best professional services and best customer satisfaction is some of the key models of our success. What the customer wants and what you give!, that's really matters in the FMGC business
In this world of more, customers want something more than just the product, because that's one of the oldest and the best ways where Product A beats product B, by simply offering more. As digitalization becomes a thing, the online economy is also growing fast and it comes with high demand. Today, hundreds of thousands of businesses engage in digital marketing, as they find it easier and more cost-effective to reach a large number of people this way. Most of the Businesses today's required good brand promotion and almost every MNC, every firm are using these Digital Marketing Strategies. It's very important for a business to attract local & international customers. Top firms use new ways to Impress Customers. Advertising your brand can be the most successive option for generating organic traffic. Organic traffic is one of the main key factors to bring clients into your business. Digital marketing helps in the identification of the FMCG competitors and their strategies to attract consumers through their social media activities. Targeting the right audience for your business is one of the best ways to sell your product, Social media today is the best opportunity to be the audience favorite.
Conclusion
FMCG distributors are playing an essential role in the current highly-integrated international market. Place your trust in FMCG Mistral Trading if experience, comprehensive services, and top-name brands are what you are looking for.